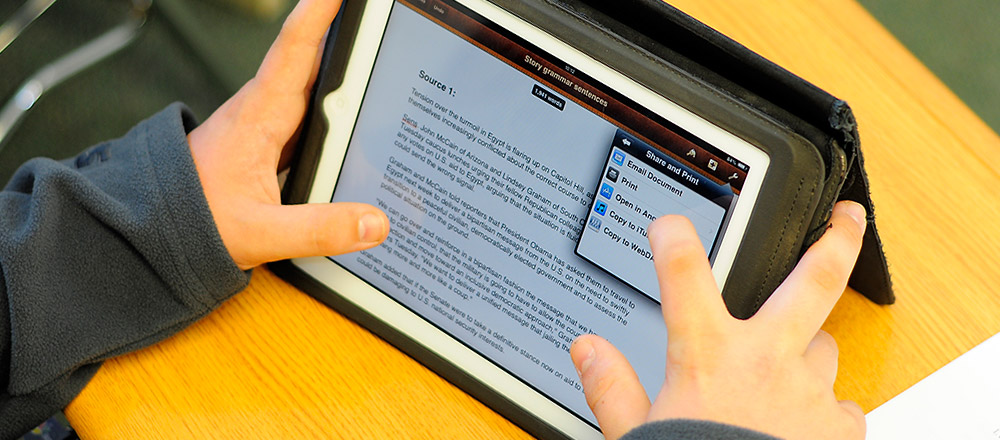 Language Arts
(2 semesters: 1 credit)
The White Oak Language Arts program is focused on preparing our students with the sophisticated literacy skills necessary for college and modern workplace. Because White Oak School's program is specifically designed to assist our students in developing expressive and receptive language skills, students engage daily in three classes dedicated to the acquisition and expansion of language skills. The three classes are English-Language Arts, Oral Expression, and a 1:1 Tutorial. Each class meets each day for fifty minutes of personalized, intensive literacy-skill instruction. This comprehensive approach utilizes research-based instruction and strategies and provides a truly effective language arts program for students with specific language-based learning disabilities.
In their English-Language Arts classes, students are guided step-by-step in developing grammar, vocabulary, reading comprehension, writing, editing, group discussion, and independent work skills. Standard grammar conventions of the English language are a key focus throughout the program. Students work to increase vocabulary knowledge by focusing on using context clues to determine meaning, analyzing meaningful word parts, utilizing reference materials, and through explorations of idioms, figurative language, metaphors and similes. In ninth and tenth grades, MCAS preparation (practice and strategies) is also a key component in the curriculum.
Literature selections – novels, essays, speeches, biographies, short stories, plays, and poetry – are drawn from the Massachusetts Frameworks Appendices. Literature is read independently and also read aloud collaboratively and discussed in depth, and students respond both orally and in writing to comprehension questions. Students also work to interpret and analyze the structure of texts. They focus on making inferences and predictions and supporting their ideas with details from the text. They work to identify themes and summarize central ideas with supporting details in oral and written formats. The intensity and student-centered pace of this approach allows our students to engage with literary texts to greater depth.
Students engage in writing for a variety of purposes – persuasive, informative or expository, and narrative. They routinely work to strengthen and develop their writing through pre-writing exercises, short- and long-term writing assignments, and revising, rewriting, editing, and giving oral presentations. Writing scaffolds are utilized and adapted as students grow in their writing skills. When developing essays or research projects, they focus on gathering relevant information from valid sources, organizing their information, and clearly expressing their ideas with supporting details in writing before revising, editing, and giving oral presentations of their work.
At each level of the Language Arts program, students focus on comprehending increasingly complex literary and informational texts. They learn to express their ideas, both orally and in writing, with growing richness of language and independence.